Surface Protective film for

Stainless Steel
Features and Applications
Features and Applications
Stainless steel absolutely is a dominant member of the metal sheets family, its commercial, engineering, and aesthetic uses universally present us brushed, bright annealed, or mirror appearances, however, this metal surface is vulnerable to many potential hazards throughout the fabrication, shipping, and installation processes, which may lead to scraping and scratch, tool mark, dust and discount "stainless" value.
We manufacture and export directly from factory stainless steel protective film, this low-cost protection film saves effectively stainless steel from the above damages and loss. We have full series to fit various surfaces, satin, polished, brushed and grained, etc. Especially, the protective film properties could be customized to fit steel application scenes, for example, the film used for deep drawing and roll forming would have been slightly different.
Our film is easy to apply and easy to remove without any residue. It is completely recyclable, Logo printing for image promotion is available upon need.
When you need stainless steel protective film, Please turn to Donlee.
We are more than happy to hear from you.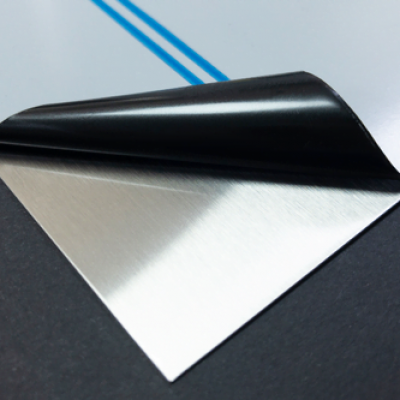 Some Brief Data
Film structure
Polyethylene film coated with Acrylic PSA.
Colors
Transparent blue, White, Black and White, Clear
Thickness
40mic~100mic, ultra thickness is upon inquire
Width
1000~1550mm,ultra width is upon inquire
Length
200~1500M
UV-resistance
Max. 3months
Logo printing
2 colors